Welcome to UNB!
If you :
are an NTU/out-going exchange student

wishes to go for an exchange in Canada

do not want to fight for a spot under GEM

want to go with a big group of friends (guaranteed)
This is definitely a guide for you if you're considering/heading to UNB. In this guide, I will be sharing with you what you need to know before fee-paying in University of New Brunswick (Fredericton) in Canada.
Why UNB?
It is one of the few schools that you can fee-pay outside of Asia.
NTU exchange system, GEM, has limited slots and is highly competitive. In order to go for an exchange with people you want, you and your friends must have GPA that is not only similar but good enough to compete with other people. Even if you fulfilled those criteria, it does not guarantee that you will be with your friends. As such, the other way would be to fee-pay.
University of New Brunswick (UNB) has a partnership with NTU and thus, the school fees per term is similar to Singapore, about 5159 CAD (subject to changes). That makes fee-paying to the school possible.
In addition, there are a lot of courses you can match if you are from NBS regardless of whether you are in Banking and Finance, Marketing, Human Resource or Accounting. Personally, I managed to clear 6 modules which is the maximum number you are allowed by the host university.
Things you need to do before flying over
Fee-Paying Procedure
There is a step by step guide of what you need to do to apply for an Overseas Study Leave that is required if you wish to fee-pay.
Visa
Usually if you are flying over to Canada, you will most likely stopover at USA. Fortunately, you do not need Visas for both countries but you do have to apply something called ESTA (USA) and ETA (Canada). Do note that you should only apply from websites that has an ending of .gov because all other websites are intermediaries and will charge you a higher price.
Accommodation
I find my apartment from www.colpittsdevelopment.ca where they lease apartments. There are 2 options, unfurnished and furnished. Personally, I chose furnished apartment with good VidaSpace flooring because it save you so much trouble albeit more expensive. If you do not mind living in an apartment that has basic furniture, you can consider the unfurnished option. When I say unfurnished, it really means there is no furniture at all in the room.
Here is the video tour of my apartment:
Budget
About $15,000 is the average a person would spend if he/she is planning to travel before and after. This is provided that you do not spend too much on expensive tours and all. Do note that if you were to fee pay, the school fees is around $5159 CAD.
Getting there
UNB is in the east side of Canada so most people would travel in the US before starting school in Canada. If you want to travel both the west and east coast of US and Canada, I would suggest you buy a "Multi-Cities" plane ticket instead of a round trip. Multi-cities means that you can buy for example from Singapore to Los Angeles and New York to Singapore so that you will not have to fly to the same airport you came from just to catch a plane back. The price is similar to that of round trip and rest assure that you are not paying 2 one-way tickets. You can do that by using www.skyscanner.com where you can also check for the best price for air tickets.
From then on depending on your itinerary for pre and post trip, you buy the ticket to Fredericton.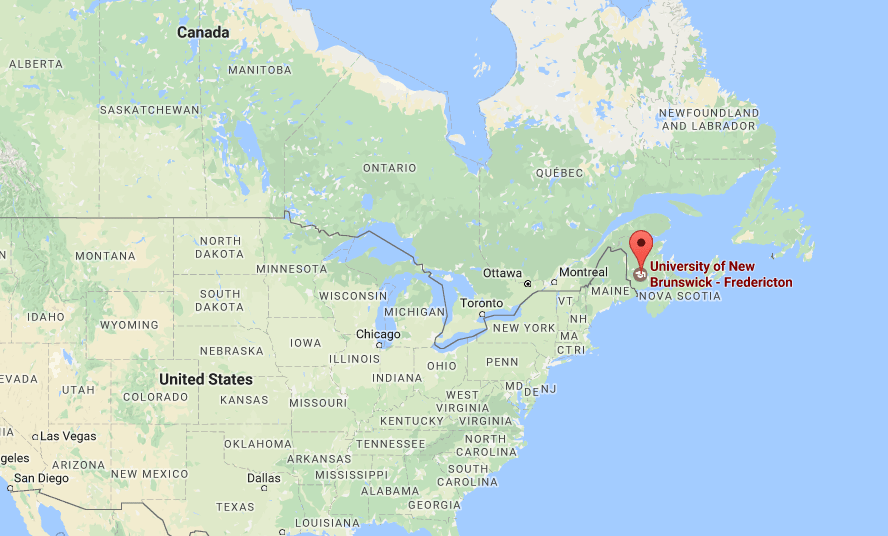 This is how I planned my flight:
I bought a "multi-cities" trip from Singapore to LA and from JFK (New York) to Singapore. I traveled most of the West coast and headed to the west side of Canada to places like Vancouver and the Rockies. From Calgary, I bought a one way trip to Fredericton.
On my way back, I bought a ticket to Washington where I traveled the East coast and New York being my last destination before I head home.
Settling Down
Fredericton is a quiet little city and it is not like what you would experience in Singapore. It does have the necessary stores like Walmart, Canadian Tires, food places but public buses are considerably inefficient. As such, we would either walk, call a taxi or cycle (if you decide to buy a bicycle).
Three of us bought second hand bicycles to commute to school and to buy groceries. Cheap and usable bicycles can be bought on their "Carousell", www.kijiji.ca and you can enjoy the convenience it provides. However, do note that the whole of Fredericton is not flat. The whole area from the picture below is a slope and steep enough for you not wanting to cycle back up.
So if you want to get a bicycle, do consider where you stay and how willing you are in cycling up-slope.
Places to go
There are several places you can go be it in Canada or USA. Basically, Fredericton is a city which is quite boring and do not have much to do except going to friends' house for party. Instead, we head to nearby places by car because UNB students get to enjoy cheaper car rates and waived underage fee. here
Here are some of the places you can visit:
< 5 hours' drive
Prince Edward's Island (C$46.50 toll charge)
Maine (USA)

Acadia National Park (Precipice Trail)
Bar Habour (Lobster)

Saint John
Moncton
Crabbe Mountain (during winter to ski)
> 5 hours' drive
Quebec City
Montreal
Ottawa
Toronto
Niagara Falls
Boston (USA)
Nova Scotia

Dartmouth
Halifax
Plane
Travelling by plane, you can travel to anywhere you want depending on how deep your wallet is.
Car Rentals
If you are getting a car in Fredericton, I would recommend getting it from Hertz because if you were to put your purpose of travel as "business", your car rental will include the Loss Damage Waiver. Otherwise, I would suggest you book Avis because you can apply the UNB code to both Hertz and Avis, making the car rental really cheap.
Reflection
Fredericton, or we usually call it Freddy, is a nice and safe place away from the bustling city life in Singapore. Even though there isn't much stuff to do, it has a special place in my heart. Friendship were made, bonds were forged, and money was spend. All in all, Freddy is probably a place you wouldn't want to visit on a holiday but definitely a beautiful place for an exchange program.
Like this article? Remember to like our Facebook page for more updates!